Christmas
I have always loved the whole Christmas season. While some grumble about decorations going up in the malls just after Halloween, I enjoy it. I love everything about the Christmas season -- the decorations, the feeling of peace, and especially the music. I have a special stash of CDs that I pull out sometime around Thanksgiving, and don't put away until some time in January.
Of course, I don't forget the reason for the season. In fact, the birth of Christ is what makes the whole celebration worthwhile. God gave us the gift of life itself -- eternal life in Heaven, and he did it in a way that nobody expected.
When you dabble in cosmology and physics, you get somewhat of an appreciation for how huge and complex this whole universe is. The God who created everything from the biggest galaxy to the brightest quasar to the heaviest black hole is awesome beyond belief. How is it that He pays any more heed to us than we do to the tiniest bacterium?
The truth is that we are the apple of His eye. We are his most beloved. Atheists like to remind us that an omnipotent god won't care any more for us than we do for a speck of dust, but they are wrong.
But how can God prove that to us?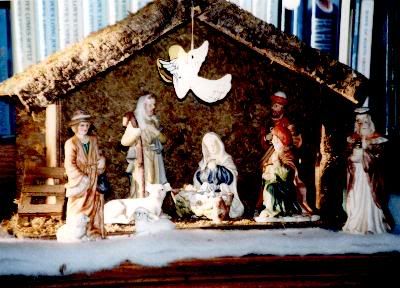 This above nativity was made by my father made when he was a boy. I remember the creche and figures from early childhood. The angel dangling from the peak is one that we painted when we were kids.
He can prove it to us by coming down to this tiny Earth as the smallest and most helpless of us -- not as a king is born in a palace, but as a pauper is born not in a home, but in a barn. The mangers that you see in the nativities that are scattered about the world look nice and cozy. Believe me, though, that hay is not cozy. It's scratchy and is sure to poke the tender skin of a newborn baby. Take it from someone who has tossed plenty of pitch forks full into a manger.
Empty he came as a man to our race
Equal with God, yet forsaking his place
Humbly he served in our world
(From the song
Empty He Came
)
Most birthday celebrations don't focus on the birthday boy or girl as a baby. Some have wondered why we do this with Christ's birthday.
The answer, of course, is that we are being reminded that Jesus humbled himself when he came to Earth to save us.
Jesus came humbly and quietly in a barn, but the celebrations soon came. The first people who received the announcement were humble shepherds, but the angels of Heaven came down and sang. It was an extravagant celebration for the humble people of Earth.
And that's what I try to do when I decorate. While it is true that less is more on some occasions, and a tasteful and minimalistic display is often appropriate, I want our Christmas celebration to be extravagant I want it to be huge and over the top.
I dug these pictures out of my archives and scanned them in. There was a house decorated by a gentleman who had to retire early due to a heart attack. He put his heart into making an extravagant display at his house right off of the service drive of I-696 (west of I-75) in Detroit.
He dressed up as Santa and gave out candy canes. He didn't charge. In fact, I don't think he even took donations. It was an act of love, and a worthy gift to the kids who came by.
The picture was taken back in 1998, by the way. Don was a cute little snot back then. He has since grown up to be quite a handsome boy.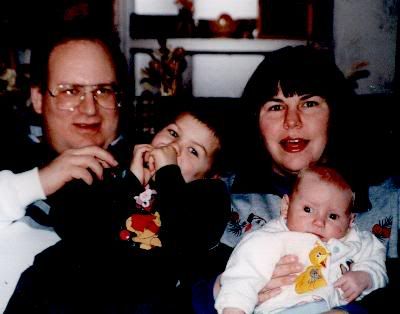 Aside from salvation itself, this is the finest gift that God has given to me. Of course, I would never have been the kind of person who could start and raise a family if I hadn't come from a stable family.
(This, too, is an older picture.)
When the day to day grind of raising a family starts to get to us, it's good to remember the joy of having children.
Paul was a charmer right from infancy. That beautiful mane of dark hair belongs to Mary, by the way.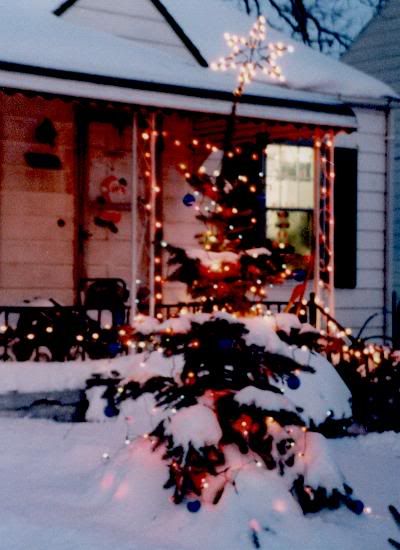 The first Christmas tree that Mary and I had as a couple was a potted blue spruce that we bought from the Eastern Market in Detroit. We decorated it and set it on the table. It candled a little after Christmas, so we had to keep it in the house. Next spring, we planted it. We decorated it every year after that. I don't know if the new owners of the house have kept up the tradition or not.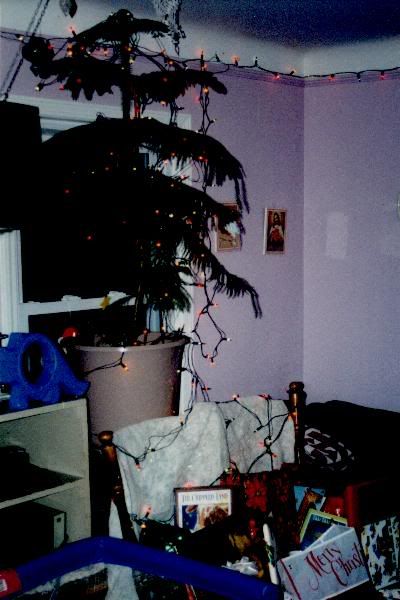 Our indoor tree was a Norfolk Island Pine. It kept getting bigger each year. Alas, I ended up killing it by taking it outside a little too early one year.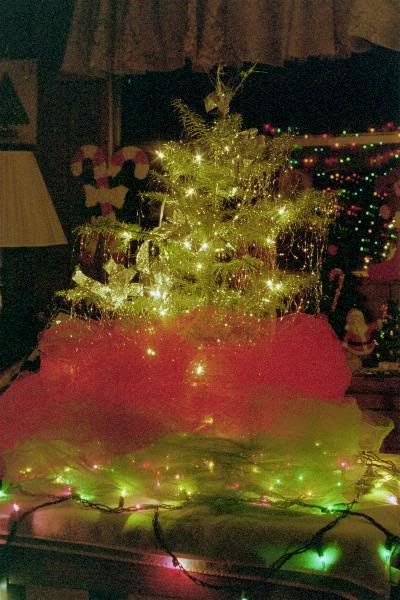 The next year, we moved into my parents' cottage and used Charlie Brown's Christmas tree. (Yes, I recycled this picture from my blog posting a couple days ago.)
Here are a couple of my favorite people. My grandparents haven't changed much since this picture was taken at the family Christmas party in 1998.
It's still up in the air, but I hope to get an opportunity to spend some time with them this Christmas. If all goes according to plan, I'll be spending the night with them on Christmas Eve, and the rest of my family will be at my in-law's place.
This picture is somewhat more recent. My brothers have started a new tradition of having a family hymn-sing after dinner and dessert.