Burrrrrp!
Yesterday, we Americans celebrated Thanksgiving. Other countries that celebrate this holiday choose another day, and perhaps another historical event.
We celebrate Thanksgiving on the fourth Thursday of November, and we commemorate the feast that the Pilgrims and the local Indians celebrated when they thanked God for the bountiful harvest.
The traditional main course is turkey, causing some people to refer to it as 'Turkey Day'. We tend to not do that, preferring to remember that it is a day of thanks giving.
Of course, that doesn't stop us from pigging out. I've been eating lightly for the past several weeks, and have managed to drop about 30-35 pounds, but I fear that I gained a few back yesterday. (First thing to be thankful for: food is so plentiful that we take it for granted). That's OK, though. I'll just have to walk around the property a few more times than usual to get some exercise. (Second thing to be thankful for: We get to live out here in the country.)
What are you thankful for? That question is asked and answered so often that it sometimes sounds trite. Still, there are things that we take for granted that would be unachievable dreams to some people. In Biblical times, a rich man was a man who had all the food he wants. Right now, just owning a car would make you rich in some countries.
I thank God for the long list of things that we can take for granted. I thank Him that I was born in a country that is still free (despite the best efforts of some). I'm thankful for the two vehicles in the driveway, the ten acres that we own, the house that shelters us, and even the fact that the pellet stove now works.
But those aren't necessarily the biggest blessings.
I'm thankful for salvation. It's easy to take that for granted, but the security of knowing that a loving God is watching over me underpins my entire life. Being saved (a free gift, by the way) means that no matter how many mistakes I make, and how bad life becomes, Heaven will be waiting for me at the end. Following god (a choice made beyond salvation) means that my life will be better than it would otherwise be, that any pain and suffering has a purpose, that I am getting better, wiser, and more mature as God shapes me, and that my efforts yield success not just for myself, not for just my family, but for the people around me -- some of whom I haven't even met. The ability to have a positive effect on the lives of others is the greatest gift, aside from salvation itself, that we have received from God.
But why do we need to express our thankfulness? I'm going to steal something from Pastor Dan's message last Sunday.
12 As he entered into a certain village, ten men who were lepers met him, who stood at a distance. 13 They lifted up their voices, saying, "Jesus, Master, have mercy on us!" 14 When he saw them, he said to them, "Go and show yourselves to the priests." It happened that as they went, they were cleansed. 15 One of them, when he saw that he was healed, turned back, glorifying God with a loud voice. 16 He fell on his face at Jesus' feet, giving him thanks; and he was a Samaritan. 17 Jesus answered, "Weren't the ten cleansed? But where are the nine? 18 Were there none found who returned to give glory to God, except this stranger?" 19 Then he said to him, "Get up, and go your way. Your faith has healed you."
Luke 17:12-19
Jesus cured the leprosy of ten people. That means that the disease was gone, and they didn't lose any more of their body parts.
One person came back and gave thanks. That one was not only cleansed, he was healed ("made whole", in some translations). The body parts that he had lost were restored.
When we express our thankfulness, especially when we publicly express it, we end up with more to be thankful for. Pastor Dan says that God 'completes the miracle'. In the story above, he started the miracle by healing the ten lepers. He completed the miracle by making the one whole. The one who was thankful got all his body parts back.
So what are you thankful for? Do you have loved ones? Is there anyone in this world who loves you? If not, be sure that God loves you, and will provide you with other human companionship if you ask. You have to ask, though, because God gave us free will, and doesn't play puppet master with us.
We spent the day with my parents and siblings. Like most brothers and sisters, we had our fights and disagreements when we were growing up. I consider them to be among my treasures now, though. Jesus told us to store up our treasures in Heaven. Most of the time, we are told to do that by doing God's will. Still, the loved ones that we have now will be there up in Heaven with us. My Great Grandparents and a whole lot of other people are treasures that are already stored up in heaven waiting for me.
When I was in the Army, I met quite a few people who joined simply as a way to get away from their parents. I always found that to be very sad because I wanted nothing more than to be at home with my family. Family is important. Those of us who have been separated for any length of time know that.
So I'm thankful for my parents. I enjoy spending time with them when they come up to their vacation home. I'm thankful for the times that we get together as a family for the holidays.
I'm thankful for Grandma and Grandpa Kelly. They, along with my parents, did a lot to make me who I am. I'm looking forward to seeing them this Christmas.
When I was in the Army, I plumbed the depths of loneliness (especially during the holidays). Later, when I was attending college, I experienced a different kind of loneliness. My family was around, and I enjoyed their company, but I was missing that one person who would share my life with me. That changed in the summer of 1991.
I'm thankful for Mary because she completes me. I even have to grit my teeth and say that I'm thankful for the lonely years because without them, I would probably have been unaware of the treasure that God had sent my way, and had lost it during some difficult times when our relationship was on the rocks. Some people don't realize what they had until they lose it. I know what I have, and what it's like to not have it, and that motivates me to do everything in my power to not lose it.
I'm thankful for our children. We get some shadow of an understanding of God's love for us by looking into the face of our children. We understand God's frustration and his patience with us when we find ourselves correcting the same child for the same transgression for the umpteenth time (that day).
I'm thankful for the good times with my wife and children. Just scroll down in this blog for pictorial proof. Through all the challenges in life, life is still good.
Now that I'm done pontificating, it's time to show some more eye candy. I'm afraid that all the leaves are gone up here in Michigan (except for the oak leaves, which hang on all winter), but maybe some people further south are still enjoying fall color.
All of these pictures were taken from our property or near our property last year. I put them under a bunch of text because they are wide and will otherwise end up sitting under the text to the right.
We live on a road that goes North-South. Our property has 330' of frontage, and goes back 1/4 of a mile (1320') from the road. In other words, it's a 1/16 mile by 1/4 mile strip that goes East to West.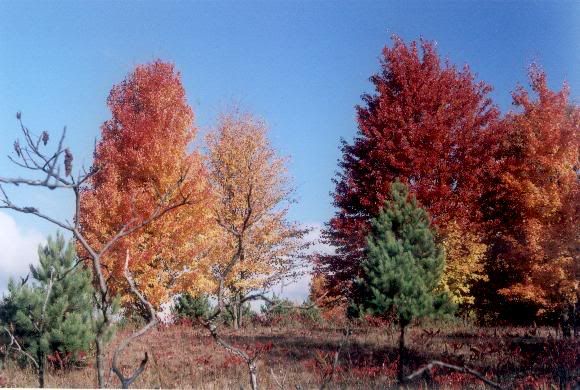 This is a view from the North edge of our property looking into the 40 acre parcel to our north.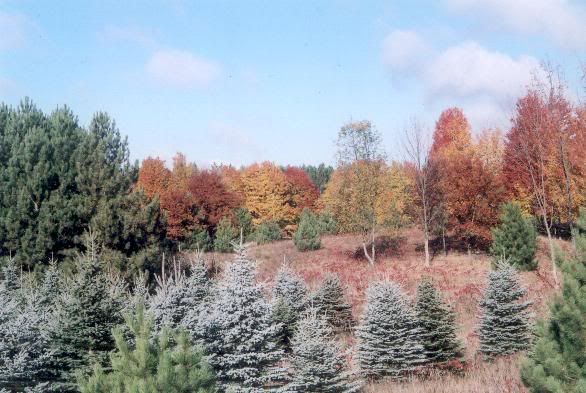 This is a similar view, but I am standing on the hill just West of that small strip of woods in the middle of our property, and looking over our patch of blue spruce to the front. Our back red pine forest is to the left, and the neighbor's property straight forward and to and right.
This picture was taken from the back edge (West edge) of the property. That maple tree with the old fence post leaning against it is pretty much on the property line. Beyond it is a planted red pine forest that was recently partially harvested.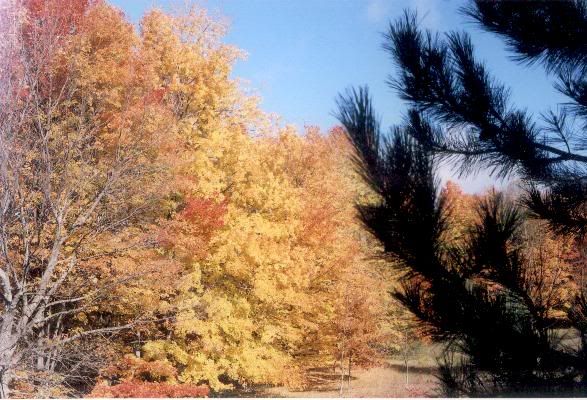 This was taken from the North-West corner of the property. The red pine to the right is one of ours, and the line of maple trees on the left make up the West border of the neighbor's 40 acre parcel.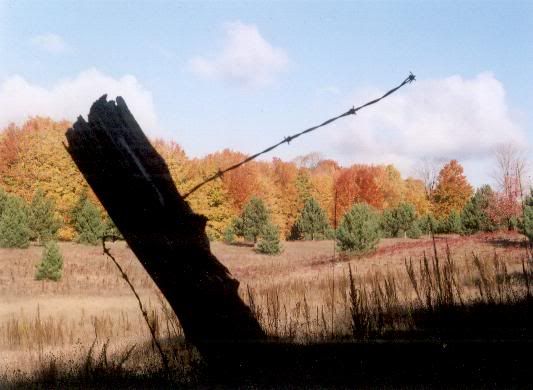 This old fence post is on the North edge of our property. My father noticed it and commented on its potential for a good photo.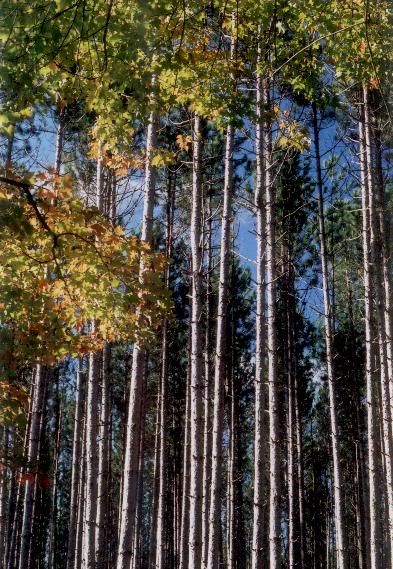 This is a shot of the partially harvested red pine forest to the West of our property. The maple branches at the top and left of the photo are on the trees that grow on the fence row.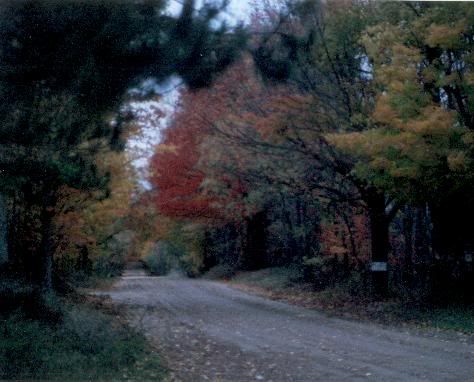 This is a shot of the road that we live on. This shot was taken perhaps 1/8 of a mile to the south of our property. You're looking North. Our driveway can't be seen, but it is to the left a bit beyond that slight rise.
This is yet another shot into the 40 acre parcel to our North. This shot was taken from within a few feet of that old fence post.